Julia Rescorla-Ryan – A celebration of her life with us
A big 'Aloha' to all of you connected to the surf club (whether in the past, present or future times!), a new year (2018) is now upon us and the club managers have tasked me with writing about Julia our lead coach for the club's 'Rookie Lifesaving-swimming' winter activity programme.
Very sadly Julia died just a few days before the Christmas weekend-days (Wednesday 20th December). She died from incurable cancer. On Wednesday 20th Julia had her lovely and loving family beside her.
Since January 2017 when I first learned she had cancer, Julia made every effort to beat it in her inimitable 'can-do' and 'lets-go-for-it' way. This is summed up by her words to me when visiting her in September "…I'm OK at the mo Pete – I'm certainly not ready to go yet!"
So how on earth do I describe the amazing whirlwind called 'Julia Rescorla-Ryan' and do her full justice in a way that makes sense to all of us in the surf club? Well here we go with a list of her amazing aquatic sport (both sea and pool based) achievements, experiences, skill and infectious enthusiasm that she brought to the surf club.
Julia was:
…an amazing competitions swimmer in her childhood and youth days. Beating the best of the opposition and showing the quickest way forward – to the other end of the swimming pool and 'Newlyn to Battery Rocks' in the annual sea swim – for both men and women competing with her.
…in the early 1970s the first Penwith Council 'female' beach lifeguard whose rescue skill competency with both rescue tube and board was in 'the best of' category.
… an incredibly talented and skilful swimming coach and a key member of the nationally recognised 'Penzance Swimming Club'. Many of the swimming club members were introduced to surfing through Julia's experience, inspiration, personal enthusiasm and sports coaching skill. She was also a key member of the team to get the Penzance Leisure purpose built indoor swimming pool built at the St Clare site.
…one of the first on-board 'full crew' female members of the RNLI-Lifeboats  organisation. Her lifeboat station and boat being Newlyn's 'Penlee Lifeboat'. Julia excelled in her role of being a Penlee RNLI-Lifeboat crew member for over 10 Yrs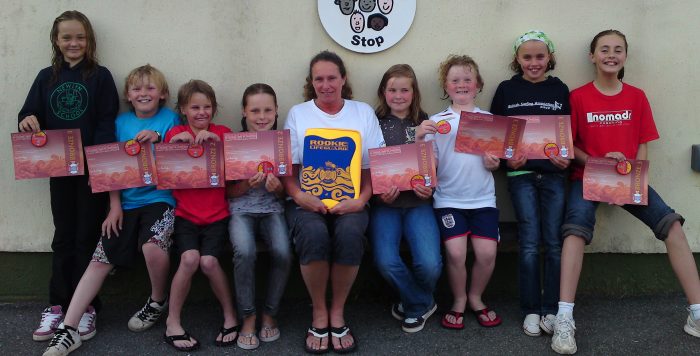 Julia's work for the Sennen Surf Club (2008-2016)
Julia used all of her public duty experiences listed above for the benefit of our surf club when with wonderful energy and enthusiasm she re-joined the surf club as a full volunteer coach member in 2008 (she was a full surf club member in the 1970s). Her designated role was to organise and lead coach the club's RLSS/UK Rookie-Lifesaving winter programme for the 'Groms & Juniors' sections of our club.
Julia did her work for us with maximum dedication, infectious enthusiasm and a total willingness to help all in the Groms club. Teaching both the children their lifesaving swimming skills and for the club's parent volunteers, how to improve their swimming ability for their RLSS/UK Beach Lifeguard training and assessment programme.
The photographs that we have of Julia with the club 'Rookies' in 2008-2009 describe exactly what Julia meant to us as a club and individually. She had these effects and influences on our club members whether children or parent volunteer:
…there are those who were taught by Julia 'how' to swim, be 'safe' and to 'rescue' others in danger in the swimming pool and the sea
…there are those she taught how to run a successful community leisure club with maximum enthusiasm, empathy and experience skill for all the members of a club
…there are those she partied with at the Skewjack Surf Holiday Village camp in the 1970s and 1980s showing all of us who worked there as surfing instructors, how we could party to the max at night, surf to the full on a 'dawnie' and lifeguard during the day between 10.00-18.00 with a maximum 'vigilance, service & duty' professionalism.
In 2008-9 seasons Julia mentored Sara (Bevan) to become a 'Rookies Lifesaving' teaching assistant at the poolside.  Inspired and influenced by Julia, in 2009 Sara attended and achieved her RLSS/UK Pool Lifeguard.
For Julia her club volunteering guideline was always 'safe successful swimming' for all, with the magical ingredient of 'maximum fun' for all the children. In this, Sara was a perfect teaching assistant companion to help Julia at the poolside on 'Groms' night.
To say 'goodbye' to Julia in this story I'd like to use the words I heard at the funeral of another very special friend of mine: "No more words can come today, to add to what our hearts do say"
Thank you Julia for all that you have given our surf club. We will do our utmost to keep and share your wonderful 'stoke' good buddy: Aloha from all of us at the Sennen Surf Club.